Things to Do in Tulum: The Best Self-Care Getaway
As one of the hot new places to visit nowadays, Tulum is a little pocket of amazing white sand beaches, easy relaxation, nice people, and amazing drinks (especially if you love tequila) located on the east side of the Yucatan Peninsula in the state of Quintana Roo.
Despite being a huge draw as a beach resort spot, there are plenty of other things to do in Tulum to satisfy your travel needs. The big trend is visiting it for its yoga retreats and eco-friendly resort experiences. However, there are also the Tulum Ruins and other outdoor activities within arm's reach.
My friend and I went because we just wanted to relax, hang out at the beach, do some yoga, and disconnect with the world for a few days. We also were curious about the Tulum Ruins and wanted to explore and see what other things to do in Tulum would be worth our while.
Day 1: Arrive and Getting to Tulum, Quintana Roo Mexico
The best way to get to Tulum is to fly into the Cancun airport. From there, you need to take public transportation to your hotel. There are several ways this can happen:
ADO bus–local bus system, can book this upon arrival. Get on at Terminal 3 in Cancun and then first go to Playa del Carmen, then make a switch and take a bus from Playa del Carmen to Tulum Bus station in downtown Tulum. After that, you'll need to take a taxi to your hotel. This is by far the cheapest way to get there–also the most labor intensive.
Tulum Express shuttle–economical and will go directly to SOME Tulum hotels. If they don't go to yours, they'll email you and ask if you still want to use their service. Be sure to respond quickly otherwise, they'll cancel your reservation (as they did with us-super annoying)
SuperShuttle–can book this online or when you get there (I recommend online since you'll have an electronic transaction record). I booked when we got there (since Tulum Express didn't work out), and I booked a round trip–make sure you confirm the return otherwise, they will lose your reservation, and you'll be stuck (speaking from experience here).
Private transfer–the most expensive but likely the most convenient
Taxi–I'd be careful here; I read a bit online before going that not all taxis are legal, so if they get pulled over, everyone in the car goes to jail. Not a great way to start your vacation.
Day 2: Local Exploration
Tulum comprises the downtown area and then the area of all the beaches and resorts. The beach resorts are all situated along the same road (make sure you stay on the beach!). This road is about 30 minutes from downtown Tulum. Once you hit Tulum's south beach road, though, it's a straight line of resorts (and their awesome restaurants), bars, street vendors, and dozens of boutiques.
After you've settled into your resort, one of the first things to do in Tulum is to wander around. You can do this by walking up and down the beach and seeing the different resorts that way, or walk the back road. In addition to getting resort access from there, you get to see the little shops and food stands, like the one below:
Walking up and down the street will probably take a couple of hours. We went up and down that strip several times. Just FYI, there's no sidewalk, and it's barely wide enough for two cars to pass each other, but everything is closely situated. I highly recommend going on foot just to have the opportunity to shop, check out the street vendors and try some of the cool restaurants that some resorts offer.
Day 3: Things to do in Tulum, At and Away From the Beach
Tulum Beaches are insanely beautiful. Imagine the best Caribbean beach you've been to. Tulum is better. But that's not all it has to offer. There are plenty of other things to do in Tulum. There are dozens of Mayan ruins on the Yucatan peninsula, including the famous Chichen Itza. Plus, the cenotes.
Tulum Ruins
You can easily book a tour for a day trip that will take you to a couple of different Tulum Ruins and then provide you with lunch as well. It's not pictured here but on the same day we saw the ruins (a Unesco world heritage site), we also went cave tubing which was a great experience! (and definitely bring the bug spray and sunscreen)
Beaches
But of course. This is how it looks: no filters.
Cenotes
Cenotes are, by definition, a natural pit or sinkhole that results from collapsed bedrock. Once collapsed, the water underneath is exposed, and you have the formation of caves and caverns, both above and below water. Many people will dive or snorkel in these areas. However, the water is so clear that you can see right to the bottom in most areas, and the wildlife is minimal. As a result, my friend and I just stuck to swimming; however, if you are interested in seeing underwater cave formations, this is the place to dive for them.
Below is the Dos Ojos Cenote!
Booking these activities can be easily done through TripAdvisor or Viator. Playadelcarmen.com is another great resource for scheduling activities in your day, specifically for vacations in that area of Mexico.
However, we chose to wait and book them through our hotel. The advantage here is that our "tour" was private, and we could go at our own pace, PLUS, we were given inside information on some amazing local spots that normal tours don't go on (see pic below). The disadvantage is that we didn't get the benefit of professional information from a guide.
Days 4 and 5: Tulum Beaches
Basically, every day is a beach day in Tulum, but the great thing is that you can walk up and down the beach and see all the resorts, stop by for an impromptu massage at any one of a dozen places, and again, explore the different resorts. Each one is boutique style and very unique in its setup. Plus, some offer interesting food options and crazy delicious drinks.
Our last two days were a combination of all of the above: eating, day drinking, laying out, and spa services. Honestly, it was perfect.
---
Final Thoughts
As you can see, Tulum is not just the beaches and resorts. There are plenty of things to do in Tulum outside of that realm. In addition to the above, there's the nightlife, and water activities, including kayaking, scuba diving, and boating.
One area we didn't explore was the town center, but that's yet another stop that the locals do recommend for shopping and food exploration.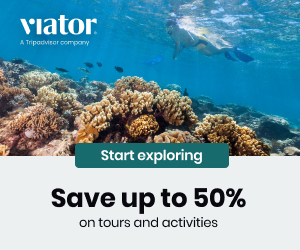 If you haven't yet, add Tulum to your bucket list. Happy Travels!